Perhaps the most important element of Leo Frank's defense concerned time. If, as Jim Conley testified, Mary Phagan had come to the pencil factory before Monteen Stover, she had to arrive there before 12:05. Ms. Stover testified that was the time she arrived. But the motorman and conductor of the trolley asserted that Mary Phagan had gotten off at 12:10. Either Conley or Stover was incorrect. Most witnesses, including Conley, agreed that it would have taken, at best, one half hour for the murder and movement of the body to the cellar, the writing of the murder notes, and Conley's hiding in the wardrobe, to occur. But there were only thirty minutes, between 12:00 and 12:30, that Frank's time was not accounted for. Had Frank enough time to commit the murder and move the body? It was a question that many people, including me, asked themselves over and over again. Thinking over that anomaly, I felt weary. How difficult it was seventy years later to understand the meaning of these inconsistencies. Yet, difficult as it was, I was determined to go on to try to piece together from the newspapers' accounts, the trial transcript, and the evidence my family had gathered the real truth about my greataunt's death.
Making that resolution once again, I returned to the transcript and Leo Frank's contentions. According to his pre-trial statements, Frank had gotten to the factory on the day of the murder at 8:30 a.m. At approximately 9:40, he had gone to Montag Brothers and returned to the factory at 10:55. He left the factory at 12:45 or 12:50, going home for lunch. At about 3:00 he returned, staying at the factory until 6:00. Upon going home at 6:25, he had dinner, was visited by some friends, and went to sleep about 10:30. He learned of the murder the next morning. The defense called more than twenty witnesses to corroborate Frank's version of when the murder happened, where Frank had been, and at what time. The first two witnesses, W. H. Matthews, motorman, and W. T. Hollis, conductor of the English Avenue car, testified that Mary Phagan got on at Lindsey Street at about 11:50 and was alone. The scheduled arrival time was seven and a half after twelve and the car was running on time on April 26. On cross-examination, Hollis admitted that the English Avenue car time schedule was a hard one to maintain and that the company could suspend men for running ahead of time. Then Herbert Schiff, assistant superintendent of the pencil factory, testified to the system of business, the preparation of the financial sheet, the procedure for paying off employees, and how the pencils are made. He remembered paying off Helen Ferguson and said he was the one, not Frank, who paid off on Friday, April 25. "Helen Ferguson did not ask for Mary Phagan's pay Friday, April 25." He also stated, "There was no bed, cot, lounge, or sofa anywhere in the building." And later said, "I have never seen Mr. Frank talk to Mary Phagan." On crossexamination, Schiff said that "On Monday, Mrs. White claimed she saw a Negroman."
Among the witnesses to testify about Frank's action on that Saturday were: Miss Mattie Hall, stenographer for Montag, the company Frank alleged he visited on Saturday morning, who testified that "I finished my work, left around 12:02 and punched the clock." Although she admitted she testified differently at the inquest, she testified that Frank did not make up the financial sheet that Saturday morning. Miss Corinthia Hall swore that she was the forelady for the factory and got there Saturday around 11:35 a.m. with Mrs. Emma Clark Freeman. Frank was in his office when they left around 11:45. On cross-examination she testified that she and Mrs. Freeman met Lemmie Quinn at the Greek Cafe. He told then that he had just finished seeing Frank. Mrs. Freeman's testimony gave evidence to the same effect. Miss Magnolia Kennedy swore that she was behind Helen Ferguson and Helen Ferguson did not ask for Mary Phagan's pay envelope. On cross-examination, she stated: "Barrett called my attention to the hair. It looked like Mary's. My machine was right next to Mary's. Mary's hair was a light brown, kind of sandy color." She did not see the blood spots on the floor, but, she said, "You could plainly see the dark spots and white spot over it ten or twelve feet away." Wade Campbell, another employee, was the brother of Mrs. White, who told him about seeing the Negro on Saturday. "I saw the spots they claim was blood. I couldn't say whether it was blood or not." On cross-examination, he said, "It is not unusual to see spots all over the metal room floor." Further, he stated, "I have never seen Frank talk to Mary Phagan." Lemmie Quinn, foreman of the factory, testified that one hundred women worked at the factory: "We have some blood spots quite frequently when people get their hands cut." However, he said, "I noticed the blood spots at the ladies' dressing room on Monday." Further, he declared, "I was in the office and saw Mr. Frank between 12:20 and 12:25." Several witnesses later testified that Quinn advised them he had visited Frank prior to noon in the factory the Saturday of the murder. Harry Denham, one of the carpenters on the fourth floor, testified that he was hammering about forty feet from the elevator. "I am sure that the elevator did not run that day, as I could have seen the wheels moving and heard the noise." He completed his work about 3:00 p.m. and left. A testimony that caused further speculation was that of Minola McKnight, the cook for the Seligs, who testified: I work for Mrs. Selig. I cook for her. Mr. and Mrs. Frank live with Mr. and Mrs. Selig. His wife is Mrs. Selig's daughter. I cooked breakfast for the family on April 26th. Mr. Frank finished breakfast a little after seven o'clock. Mr. Frank came to dinner about twenty minutes after one that day. That was not the dinner hour, but Mrs. Frank and Mrs. Selig were going off to the two o'clock car. They were already eating when Mr. Frank came in. My husband, Albert McKnight, wasn't in the kitchen that day between one and two o'clock at all. Standing in the kitchen door you can-not see the mirror in the dining room. If you move up to the north end of the kitchen, where you can see the mirror, you can't see the dining room table. My husband wasn't there all that day. Mr. Frank left that day sometime after two o'clock. I next saw him at half past six at supper. I left about eight o'clock. Mr. Frank was still at home when I left. He took supper with the rest of the family. After this happened the detectives came out and arrested me and took me to Mr. Dorsey's office, where Mr. Dorsey, my husband, and an-other man were there. I was working at the Seligs when they come and got me. They tried to get me to say that Mr. Frank would not allow his wife to sleep that night and that he told her to get up and get his gun and let him kill himself, and that he made her get out of bed. They had my husband there to bull-doze me, claiming that I had told him that. I had never told him anything of the kind. I told them right there in Mr, Dorsey's office that it was a lie. Then they carried me down to the stationhouse in the patrol wagon. They came to me for another statement about half past eleven or twelve o'clock that night and made me sign something before they turned me loose, but it wasn't true. I signed it to get out of jail, because they said they would not let me out. It was all written out for me before they made me sign it.
On cross-examination she was shown a copy of her original statement and said: I signed that statement, but I didn't tell you some of the things you got in there. I didn't say he left home about three o'clock. I said somewhere about two. I did not say he was not there at one o'clock. Mr. Graves and Mr. Pickett, of Beck & Gregg Hardware Co., came down to see me. A detective took me to your [Hugh Dorsey's] office. My husband was there and told me that I had told him certain things. Yes, I denied it. Yes, I wept and cried and stuck to it. When they first brought me out of jail, they said they did not want anything else but the truth, then they said I had to tell a lot of lies and I told them I would not do it. That man sitting right there [pointing to Mr. Campbell] and a whole lot of men wanted me to tell lies. They wanted me to witness to what my husband was saying. My husband tried to get me to tell lies. They made me sign that statement, but it was a lie. If Mr. Frank didn't eat any dinner that day I ain't sitting in this chair. Mrs. Selig never gave me no money. The statement that I signed is not the truth. They told me if I didn't sign it they were going to keep me locked up. That man there [indicating] and that man made me sign it. Mr. Graves and Mr. Pickett made me sign it. They did not give me any more money after this thing happened. One week I was paid two week's wages. Finally, when the defense requestioned her she declared:
None of the things in that statement is true. It's all a lie. My wages never have been raised since this thing happened. They did not tell me to keep quiet. They [the Seligs] always told me to tell the truth and it couldn't hurt. Mrs. A. P. Levy testified that she saw Frank get off the trolley car on Memorial Day between one and two o'clock. Her cross-examination stated that it was definitely 1:20 because she was looking at the clock. Mrs. M. G. Michael of Athens testified that she saw Frank at two o'clock that day and observed nothing unusual about him. Her husband, Jerome Michael, stated that he saw Frank between one and two o'clock and noticed absolutely nothing unusual about him. "No scratches, bruises, marks, and no nervousness." Mrs. Hennie Wolfsheimer swore to the same thing. She was Frank's aunt and was corroborated by Julian Loeb, a cousin to Mrs. Frank, as well as by Cohen Loeb and H. J. Hinchey. Emil Selig, Frank's father-in-law, testified to Leo Frank's natural conduct:
My wife and I live with Mr. Frank and his wife. The kitchen in our house is next to the dining room. There is a small passage way between them. The sideboard in the dining room is in the same position now as it has always been. Mr. Frank took breakfast before I did on April 26th and left the house before I breakfasted. I got back home to dinner at about 1:15. My wife and Mrs. Frank were eating then. They told me in the morning to come home a little sooner, that they wanted to go to Grand Opera that afternoon and have dinner a little earlier than usual, and I came home a little earlier. Mr. Frank came in after I did, about 1:20. There was nothing unusual about him. No scratches or bruises about him. He sat down to his meal. The ladies left us while he was still eating. I don't know what Mr. Frank did after dinner. I went out to the chicken yard. Mr. Frank was still in the hall when I got back. I laid down and went to sleep. I did not see him when he left. I saw him about 6:30 that evening. Mrs. Frank and Mrs. Selig had not yet gotten back. They came in a short while. We ate supper about seven o'clock. I noticed nothing unusual about him at supper. We finished supper about seven twenty-five. Mr. Frank sat in the hall and read. A party of our friends came to the house and played cards after supper. Frank and his wife did not play. They don't play poker. They play bridge. He was reading in the hall while we were playing. He came in one time while we were playing and said he read a story about a baseball umpire's decision and he was laughing. Frank answered the doorbell several times that evening when the guests came. He and his wife went to bed before the company left, about ten or ten-thirty. He came to the door and told us goodnight and went upstairs. His wife went up shortly afterwards.
Mrs. Rhea Frank, Frank's mother, took the stand. On cross-examination, she stated, "Leo does not have any rich relatives in Brooklyn." Later she said, As to what my means of support are, we have about $20,000, out at interest, my husband and I, at six per cent. We own the house we live in. We have a $6,000 mortgage on it. The house is worth about $10,000. My husband is doing nothing. He is not in good health. Up to a year ago he was a traveling salesman. These are the only relatives my son has in Brooklyn. Mr. Moses Frank, my brother-in-law, generally spends a Sunday with us in Brooklyn, before he sails for Europe. He spends Sunday with us in Brooklyn and has dinner with us. He was not in Brooklyn on April 26th. He is supposed to be very wealthy. I don't know how much cash my husband has in [the] bank. A few hundred dollars possibly. My husband is 67 years old. He is broken down from hard work and in very poor health. He was too unwell to come down here. C. F. Urssenbach, Frank's brother-in-law, said he had an engagement with Frank to go to the ballgame on Saturday, but Frank called and cancelled it. L. Strauss testified that he was at the Selig home Saturday night playing cards and that Frank sat in the hall reading. Sig Montag, the treasurer of the factory, testified to Frank's coming to him Sunday morning after the murder and he looked all right. He went to the pencil factory that morning, and he called Mr. Haas, his personal counsel. In total, the defense produced nearly two hundred witnesses, all white and principally from Atlanta, who largely corroborated Frank's version of what had happened the day of the murder and to discredit the state's witnesses. In addition, so as to offset the testimony concerning sexual liaisons in the factory as well as Frank's alleged misconduct with female employees, the defense was determined to establish Frank's good character, which, of course, carried with it the opportunity for the prosecution to introduce subsequent evidence as to Frank's alleged bad reputation and character. Jim Conley's reputation and past experiences, including his drinking habits, problems with the law, and history of petty theft and disorderly conduct, were heavily attacked by the defense lawyers and witnesses. The core of this focus was the question: could Jim Conley be believed? Mrs. Rebecca Carson, a forelady at the pencil factory, testified that the elevator was noisy when it ran and that Jim Conley told her on Monday he was so drunk the previous Saturday he did not know where he was or what he did. She also stated that she overheard Jim say that "Frank is innocent as an angel; and when my mother said 'The murderer will be the Negro Mrs. White saw sitting on a box at the foot of the stairs,' Jim dropped his broom quick and didn't finish sweeping." Mrs. E. M. Carson testified that she saw blood spots around the ladies dressing room three or four times later she recalled that Conley said, "Mr. Frank is as innocent as you is, and I know you is." She told Conley that "Whenever they find the murderer of Mary Phagan it's going to be the 'nigger' that was sitting near the elevator when Mrs. White went upstairs." "Further," she said, "I would not believe Conley on oath." Miss Mary Pirk, another forelady at the factory, testified "I talked with Jim Conley the Monday after the murder. I accused him of the murder and he took his broom and walked right out of the office." She swore that she wouldn't believe Jim on oath. On cross-examination, Miss Pirk stated that she did not tell Frank of her suspicions and that she suspected Jim "because he looked and acted so differently."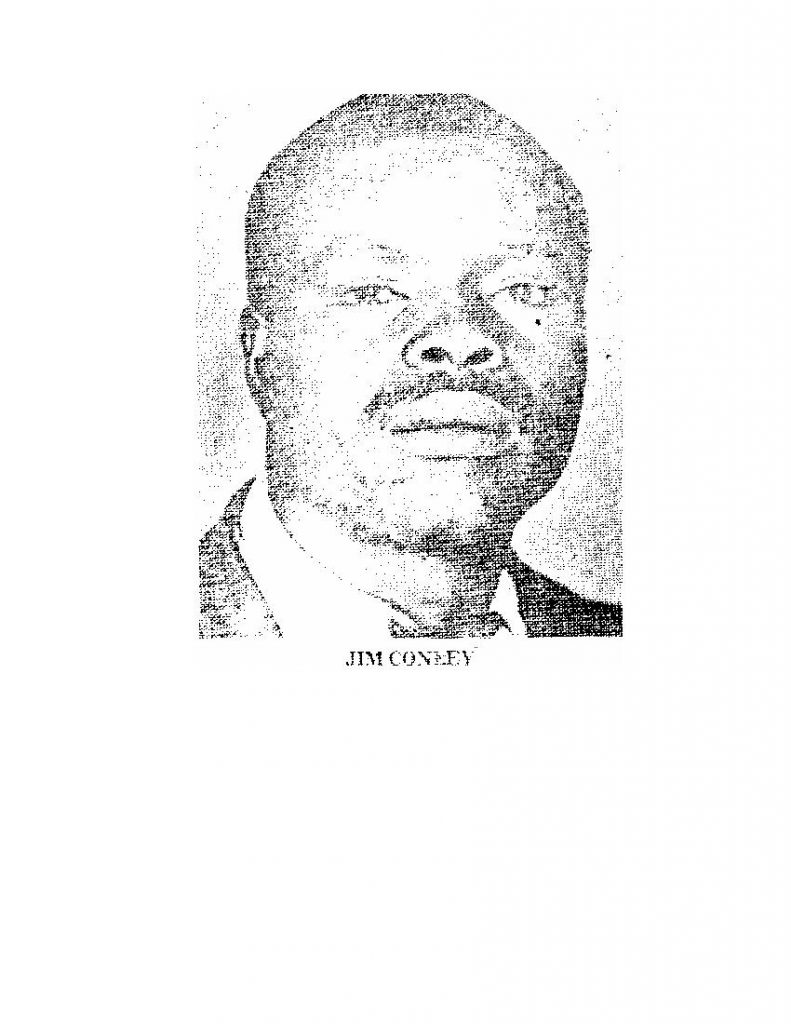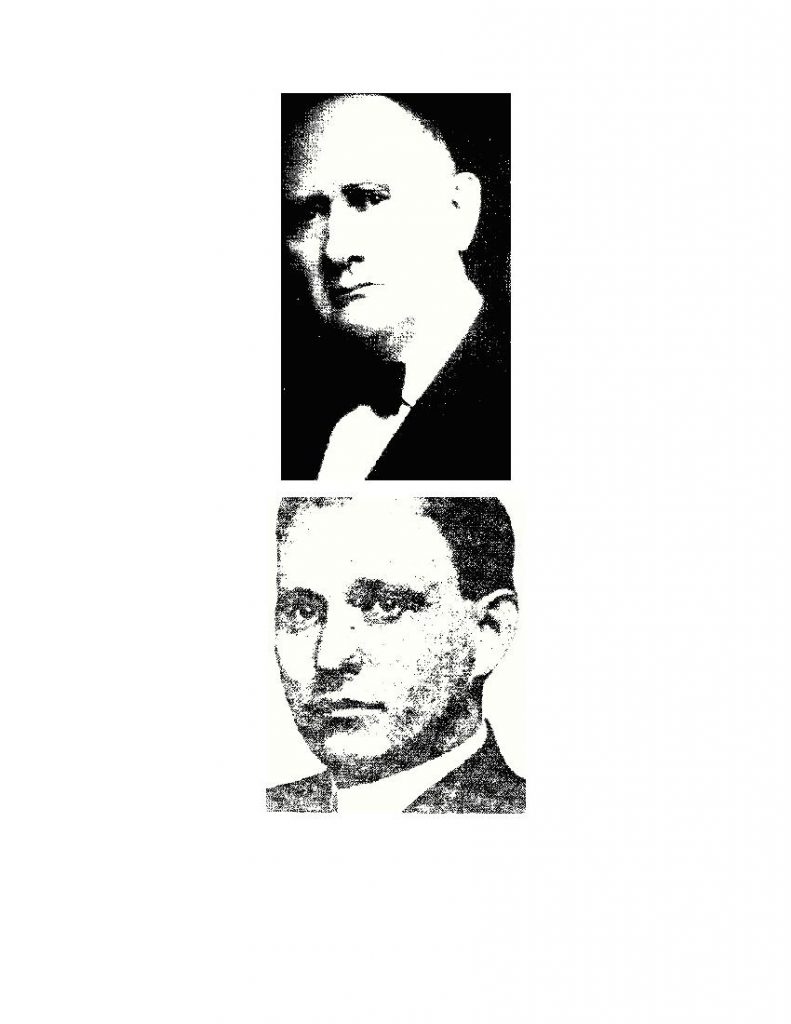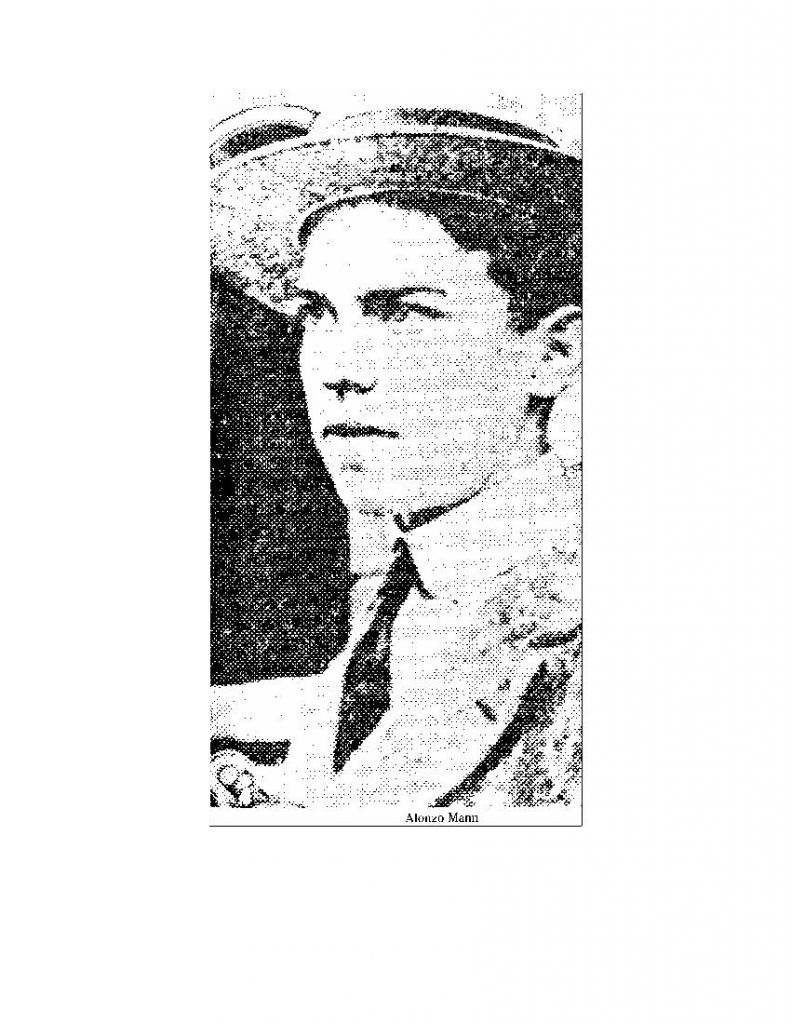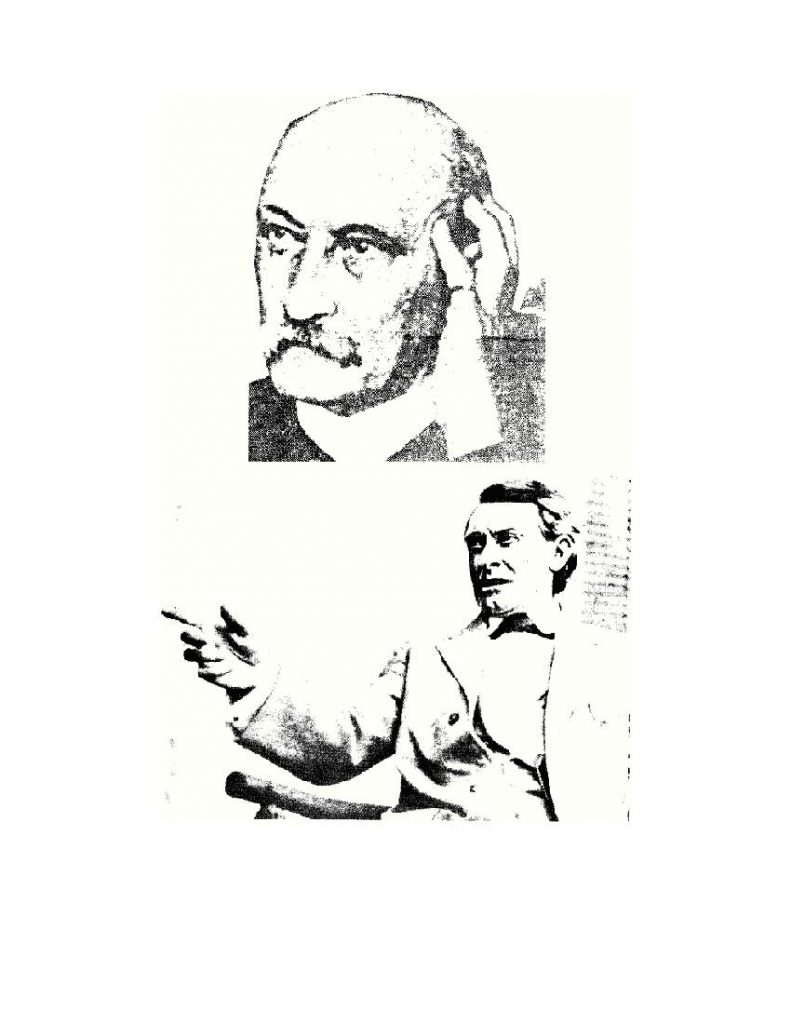 I accused Jim before I saw the blood at the ladies' dressing room. It was all smeared over with some kind of white stuff. It covered about two feet in area. I mentioned it to the girls before Jim was arrested. I am not sure whether it was before or after. It was after the Coroner's inquest. I have seen several spots in the factory that looked like that spot many times. All kinds of spots. I have seen spots before that looked like that. I don't know exactly when. My opinion is that Mr. Frank is a perfect gentleman. I always found him to be one in my dealings with him. I have never heard any of the girls say anything about him. Another important defense witness was Daisy Hopkins. She had been named by Jim Conley as one of the girls Dalton and Frank brought to the factory for immoral purposes: I am a married woman. I worked in the factory from October 1911 to June 1st, 1912. I worked in the packing department on the second floor. Mr. Frank never spoke to me when he would pass. I never did speak to him. I've never been in his office drinking beer, Coca-Cola, or anything else. I know Dalton when I see him. I never visited the factory with him, I never have been with him until I went to his to see Mrs. Taylor, who lived with him then. That was the only place I have ever seen him. I never have been to the factory on Saturday or any other day. I never introduced him to Mr. Frank. There isn't a word of truth in that. I have never gone down in the basement with this fellow, Dalton. I don't even know where the basement is at all. I have never been anywhere in the factory, except at my work. It was brought out under cross-examination by Dorsey that Mrs. Hopkins had been arrested but not tried for fornication. She said: I have never been in jail. Mr. W.W. Smith got me out of jail. Somebody told a tale on me, that's why I was put in jail. I don't know what they charged me with, they accused me of fornication. On redirect examination, she stated: I never was tried. I never had to pay anything except my lawyer's fee, which I paid to Mr. William Smith. I never was taken to court. Miss Dora Small testified that she worked at the factory and saw Jim Conley on the fourth floor Tuesday. "I did not see Frank talk to Conley," she said. Later, she said, "Jim worried me with money so he could buy a newspaper, and every time he heard a newsboy yell 'Extra!' Jim would go to me and beg to see the paper before I finished reading." She continued by stating that Conley's reputation for truth and veracity was bad. Miss Julia Fuss said, after being sworn in, "I work on the fourth floor of the factory and I talked to him (Conley) Wednesday morning after the murder. He told me he believed Mr. Frank was just as innocent as the angels from heaven." Further she said, "Jim was never known to tell the truth." On cross-examination, she testified that Frank came up the stairs Tuesday where Conley was but she did not see them talking. In all, forty-nine women employees at the pencil factory testified that Leo Frank's general reputation and his reputation for moral rectitude was good.
No one realized when Alonzo Mann, Frank's office boy, testified that it would be his revelations sixty-nine years later which brought the Leo Frank-Mary Phagan murder case once again into national prominence. I am office boy at the National Pencil Company. I began working there April 1, 1913. I sit sometimes in the outer office and stand around in the outer hall. I left the factory at half past eleven on April 26th. When I left there Miss Hall, the stenographer from Montag's, was in the office with Mr. Frank. Mr. Frank told me to phone Mr. Schiff and tell him to come down. I telephoned him, but the girl answered the phone and said he hadn't got up yet. I telephoned once. I worked there two Saturday afternoons of the weeks previous to the murder and stayed there until half past three or four. Frank was always working during that time. I never saw him bring any women into the factory and drink with them. I have never seen Dalton there. On April 26, I saw Holloway, Irby, McCrary and Darley at the factory. I didn't see Quinn. I don't remember seeing Corinthia Hall, Mrs. Freeman, Mrs. White, Graham, Tillander, or Wade Campbell. I left there eleven-thirty. Despite Jim Conley's allegations that Leo Frank had said, "You know I ain't built like other men;" several physicians who examined Frank during his incarceration testified that he was anatomically normal. Other physicians tried to ascertain more precisely the exact time of Mary Phagan's death by giving their opinions on the digestive processes entailed after Mary's last meal, but they were largely unsuccessful as there was much difference of opinion. Fifty-six associates of Frank at Cornell University, in Brooklyn, and in Atlanta testified as to his general good character as an upright and law-abiding citizen. Georgia law in 1913 stipulated that no defendant could be sworn to testify for himself. Judge Roan read Frank the law: "In criminal procedure the prisoner will have the right to make to the court and jury such statement in the case as he shall deem proper in his defense. It shall be not under oath and shall have such force as the jury shall think right to give it. They may believe it in preference to sworn testimony. The prisoner shall not be compelled to answer any questions on cross-examination. He should feel free to decline to answer. Now you can make such statements as you see fit." Concluding the defense's case, Frank submitted a lengthy statement on the stand and he refused to be cross-examined. He spoke for four hours: Gentlemen of the Jury: In the year 1884, on the 17th day of April, I was born in Paris, Texas. At the age of three months, my parents took me to Brooklyn, New York, and I remained in my home until I came South, to Atlanta, to make my home here. I attended the public schools of Brooklyn, and prepared for college at Pratt Institute, Brooklyn, New York. In the fall of 1902, I entered Cornell University, where I took the course in mechanical engineering, and graduated after four years, in June, 1906. I then accepted a position as draftsman with the B.F. Sturtevant Company, of High Park, Massachusetts. After remaining with this firm for about six months, I returned once more to my home in Brooklyn, where I accepted a position as testing engineer and draftsman with the National Meter Company of Brooklyn, New York. I remained in this position until about the middle of October, 1907, when, at the invitation of some citizens of Atlanta, I came South to confer with them in reference to the starting and operation of a pencil factory, to be located in Atlanta. After remaining here for about two weeks, I returned once more to New York, where I engaged passage and went to Europe. I remained in Europe nine months. During my sojourn abroad, I studied the pencil business, and looked after the erection and testing of the machinery which had been previously contracted for. The first part of August, 1908, I returned once more to America, and immediately came South to Atlanta, which has remained my home ever since. I married in Atlanta, an Atlanta girl, Miss Lucile Selig. The major portion of my married life has been spent at the home of my parents-in-law, Mr. and Mrs. E. Selig, at 68 East Georgia Avenue. My married life has been exceptionally happy—indeed, it has been the happiest days of my life. . . . On my arrival at the factory, I found Mr. Holloway, the day watchman, at his usual place, and I greeted him in my usual way; I found Alonzo Mann, the office boy, in the outer office. I took off my coat and hat and opened my desk and opened the safe, and assorted the various books and files and wire trays containing the various papers that were placed there the evening before, and distributed them in their proper places about the office. I then went out to the shipping room and conversed a few minutes with Mr. Irby, who at that time was shipping clerk, concerning the work which he was going to do that morning, though, to the best of my recollection, we did no shipping that day, due to the fact that the freight offices were not receiving any shipments, due to its being a holiday. I returned to my office and looked through the papers, and assorted out those which I was going to take over on my usual trip to the General Manager's office that morning. . . . Of all the mathematical work in the office of the pencil factory, this very operation, this very piece of work that I have now before me, is the most important, it is the invoices covering shipments that are sent to customers, and it is very important that the prices be correct, that the amount of goods shipped agrees with the amount which is on the invoice, and that the terms are correct, and that the address is correct, and also in some cases, I don't know whether there is one like that here, there are freight deductions, all of which have to be very carefully checked over and looked into, because I know of nothing else that exasperates a customer more than to receive invoices that are incorrect; moreover, on this morning, this operation of this work took me longer than it usually takes an ordinary person to complete the checking of the invoices, because usually one calls out and the other checks, but I did this work all by myself that morning, and as I went over these invoices, I noticed that Miss Eubanks, the day before, had evidently sacrificed ac-curacy to speed, and every one of them was wrong, so I had to go alone over the whole invoice, and I had to make the corrections as I went along, figure them out, extend them, make deductions for freight, if there were any to be made, and then get the total shipments, because, when these shipments were made on April 24th, which was Thursday, this was the last day of our fiscal week, it was on this that I made that financial sheet which I make out every Saturday after-noon, as has been my custom, it is on this figure of total shipments I make that out, so necessarily it would be the total shipments for the week that had to be figured out, and I had to figure every invoice and arrange it in its entirety so I could get a figure that I would be able to use. . . . I started on this work, as I said, and had gone into it in some detail, to show you the carefulness with which the work must be carried out. I was at work on this one at about nine o'clock, as near as I remember, Mr. Darley and Mr. Wade Campbell, the inspector of the factory, came into the outer office, and I stopped what work I was doing that day on this work, and went to the outer office and chatted with Mr. Darley and Mr. Campbell for ten or fifteen minutes, and conversed with them, and joked with them, and while I was talking to them, I should figure about nine fifteen, a quarter after nine, Miss Mattie Smith came in and asked me for her pay envelope, and for that of her sister-in-law and I went to the safe and unlocked it and got out the package of envelopes that Mr. Schiff had given me the evening before, and gave her the required two envelopes, and placed the remaining envelopes that I got out, that were left over from the day previous, in my cash box, where I would have them handy in case others might come in, and I wanted to have them near at hand without having to jump up and go to the safe every time in order to get them; I keep my cash box in the lower drawer on the left hand side of my desk. After Miss Smith had gone away with the envelopes, a few minutes, Mr. Darley came back with the envelopes, and pointed out to me an error in one of them, either the sister-in-law of Miss Mattie Smith, she had gotten too much money, and when I had deducted the amount that was too much, that amount balanced the payroll, the error in the payroll that I had noticed the night before, and left about five or ten cents over; those things usually right themselves anyhow. I continued to work on those invoices, when I was interrupted by Mr. Lyons, Superintendent of Montag Brothers, coming in, he brought me a pencil display box that we call the Panama assortment box, and he left it with me, he seemed to be in a hurry, and I told him if he would wait for a minute I would go over to Montag Brothers with him, as I was going over there; and he stepped out to the outer office, and as soon as I come to a convenient stopping place in the work, I put the papers I had made out to take with me in a folder, and put on my hat and coat and went to the outer office, when I found that Mr. Lyons had already left. Mr. Darley left with me, about nine thirty-five or nine forty, and we passed out of the factory, and stopped at the corner of Hunter and Forsyth Streets, where we each had a drink at Cruickshank's soda fount, where I bought a package of favorite cigarettes, and after we had our drink, we conversed together there for some time, and I lighted a cigarette and told him good-bye, as he went in one direction, and I went on my way then to Montag Brothers where I arrived, as nearly as may be, at ten o'clock, or a little after; on entering Montag Brothers, I spoke to Mr. Sig Montag, the General Manager of the business, and then the papers which I collected, which lay on his desk, I took the papers out and transferred them into the folder, and distributed them at the proper places at Montag Brothers. I don't know just what papers they were, but I know there were several of them, and I went on chatting with Mr. Montag, and I spoke to Mr. Matthews, and Mr. Cross, of the Montag Brothers, and after that I spoke to Miss Hattie Hall, the pencil company's stenographer, who stays at Montag Brothers, and asked her to come over and help me that morning; as I have already told you, practically every one of these invoices was wrong, and I wanted her to help me on that work, and in dictating the mail; in fact, I told her I had enough work to keep her busy that whole afternoon if she would agree to stay, but she said she didn't want to do that, she wanted to have at least half a holiday on Memorial Day. I then spoke to several of the Montag Brothers' force on business matters and other matters, and after that I saw Harry Gottheimer, the sales manager of the National Pencil Company, and I spoke at some length with him in reference to several of his orders that were in work at the factory, there were two of his orders especially that he laid special stress on, as he said he desired to ship them right away, and I told him I didn't know how far along in process of manufacture the orders had proceeded, but if he would go back with me then I would be very glad to look for it, and then tell him when we could ship them, and he said he couldn't go right away, he was busy, but he would come a little later, and I told him I would be glad for him to come over later that morning or in the afternoon, as I would be there until about one o'clock, and after three. I then took my folder and returned to Forsyth Street alone. On arrival at Forsyth Street, I went to the second or office floor, and I noticed the clock, and it indicated five minutes after eleven o'clock. I saw Mr. Holloway there, and I told him he could go as soon as he got ready, and he told me he had some work to do for Harry Denham and Arthur White, who were doing some repair work up on the top floor, and he would do the work first. I then went into the office, I went into the outer office, and found Miss Hattie Hall, who had preceded me over from Montag's, and another lady who introduced herself to me as Mrs. Arthur White, and the office boy; Mrs. Arthur White wanted to see her husband, and I went into the inner office, and took off my coat and hat, and removed the papers which I had brought back from Montag Brothers in the folder, and put the folder away. It was about this time that I heard the elevator motor start up and the circular saw in the carpenter shop, which is right next to it, running. I heard it saw through some boards, which I supposed was the work that Mr. Holloway had referred to. I separated the orders from the letters which required answers, and took the other material, the other printed matter that didn't need immediate attention. I put that in various trays, and I think it was about this time that I concluded I would look and see how far along the reports were, which I use in getting up my financial report every Saturday afternoon, and to my surprise I found that the sheet which contains the record of pencils packed for the week didn't include the report for Thursday, the day the fiscal week ends; Mr. Schiff evidently, in the stress of getting up, figuring out, and filling the envelopes for the payroll on Friday, instead of, as usual, on Friday and half the day Saturday, had evidently not had enough time. I told Alonzo Mann, the office boy, to call up Mr. Schiff, and find out when he was coming down, and Alonzo told me the answer came back over the telephone that Mr. Schiff would be right down, so I didn't pay any more attention to that part of the work, because I expected Mr. Schiff to come down any minute. It was about this time that Mrs. Emma Clark Freeman and Miss Corinthia Hall, two of the girls who worked on the fourth floor, came in, and asked permission to go upstairs and get Mrs. Freeman's coat, which I readily gave, and I told them at the same time to tell Arthur White that his wife was downstairs. A short time after they left my office, two gentlemen came in, one of them a Mr. Graham, and the other the father of a boy by the name of Earle Burdette; these two boys had gotten into some sort of trouble during the noon recess the day before, and were taken down to police headquarters, and of course didn't get their envelopes the night before, and I gave the required pay envelopes to the two fathers, and chatted with them at some length in reference to the trouble their boys had gotten into the day previous. But just before they left the office, Mrs. Emma Clark Freeman and Miss Corinthia Hall came into my office and asked permission to use the telephone, and they started to the telephone, during which time these two gentlemen left my office. But previous to that, when these two gentlemen came in, I had gotten Miss Hattie Hall in and dictated what mail I had to give her, and she went out and was typewriting the mail; before these girls finished the typewriting of these letters and brought them to my desk to read over and sign, which work I started. Miss Clark and Miss Hall left the office, as near as may be, at a quarter to twelve, and went out, and I started to work reading over the letters and signing the mail . . . Miss Hall left my office on her way home at this time, and to the best of my information there were in the building Arthur White and Harry Denham and Arthur White's wife on the top floor. To the best of my knowledge, it must have been from ten to fifteen minutes after Miss Hall left my office, when this little girl, whom I afterwards found to be Mary Phagan, entered my office and asked for her pay envelope. I asked for her number and she told me; I went to the cash box and took her envelope out and handed it to her identifying the envelope by the number. She left my office and apparently had gotten as far as the door from my office leading to the outer office, when she evidently stopped and asked me if the metal had arrived, and I told her, no. She continued on her way out and I heard the sound of her footsteps as she went away. It was a few moments after she asked me this question that I had an impression of a female voice saying something; I don't know which way it came from; just passed away and I had that impression. This little girl had evidently worked in the metal department by her question and had been laid off owing to the fact that some metal that had been ordered had not arrived at the factory; hence, her question. I only recognized this little girl from having seen her around the plant and did not know her name, simply identifying her envelope from her having called her number to me. She had left the plant hardly five minutes when Lemmie Quinn, the foreman of the plant, came in and told me that I could not keep him away from the factory, even though it was a holiday; at which I smiled and kept on working. He first asked me if Mr. Schiff had come down and I told him he had not and he turned around and left. I continued work until I finished this work and these requisitions and I looked at my watch and noticed that it was a quarter to one. I called my home up on the telephone, for I knew that my wife and my mother-in-law were going to the matinee and I wanted to know when they would have lunch. I got my house and Minola answered the phone and she answered me back that they would have lunch immediately and for me to come right on home. I then gathered my papers together and went upstairs to see the boys on the top floor. This must have been, since I had just looked at my watch, ten minutes to one. I noticed in the evidence of one of the witnesses, Mrs. Arthur White, she states it was twelve thirty-five that she passed by and saw me. That is possibly true; I have no recollection about it; perhaps her recollection is better than mine; I have no remembrance of it; however, I expect that is so. When I arrived upstairs I saw Arthur White and Harry Denham who had been working up there and Mr. White's wife. I asked them if they were ready to go and they staid they had enough work to keep them several hours. I noticed that they had laid out some work and I had to see what work they had done and were going to do. I asked Mr. White's wife if she was going or would stay there as I would be obliged to lock up the factory, and Mrs. White said, No, she would go then. I went down and gathered up my papers and locked my desk and went around and washed my hands and put on my hat and coat and locked the inner door to my office and locked the doors to the street and started to go home. Now, gentlemen, to the best of my recollection from the time the whistle blew for twelve o'clock until a quarter to one when I went upstairs and spoke to Arthur White and Harry Denham, to the best of my recollection, I did not stir out of the inner office; but it is possible that in order to answer a call of nature or to urinate I may have gone to the toilet. Those are things that a man does unconsciously and can not tell how many times not when he does it. Now, sitting in my office at my desk, it is impossible for me to see out into the outer hall when the safe door is open, as it was that morning, and not only is it impossible for me to see out, but it is impossible for people to see in and see me there. I continued on up Forsyth to Alabama and down Alabama to Whitehall where I waited a few minutes for a car, and after a few minutes a Georgia Avenue car came along; I took it and arrived home at about one twenty. When I arrived at home, I found that my wife and my mother-in-law were eating their dinner, and my father-in-law had just sat down and started his dinner. I sat down to dinner and before I had taken anything, I turned in my chair to the telephone, which is right behind me and called up my brother-in-law to tell him that on account of some work I had to do at the factory, I would be unable to go with him, he having invited me to go with him out to the ballgame. I succeeded in getting his residence and his cook answered the phone and told me that Mr. Ursenbach had not come back home. I told her to give him a message for me, that I would be unable to go with him. I turned around and continued eating my lunch, and after a few minutes my wife and mother-in-law finished their dinner and left and told me goodbye. My father-in-law and myself continued eating our dinner, Minola McKnight serving us. After finishing dinner, my father-in-law said he would go out in the back yard to look after his chickens and I lighted a cigarette and laid down. After a few minutes I got up and walked up Georgia Avenue to get a car. I missed the ten minutes to two car and I looked up and saw in front of Mr. Wolfsheimer's residence, Mrs. Mickle, an aunt of my wife who lives in Athens, and there were several ladies there and I went up there to see them and after a few minutes Mrs. Wolfsheimer came out of the house and I waited there until I saw that I could catch the car. I got on the car and talked to Mr. Loeb on the way to town. The car got to a point about the intersection of Washington Street and Hunter Street and the fire engine house and there was a couple of cars stalled up ahead of us, the cars were waiting there to see the memorial parade; they were all banked up. After it stood there a few minutes as I did not want to wait, I told Mr. Loeb that I was going to get out and go on as I had work to do. So I went on down Hunter Street, going in the direction of Whitehall and when I got down to the corner of Whitehall and Hunter, the parade had started to come around and I could not get around at all and I had to stay there fifteen or twenty minutes and see the parade. Then I walked on down Whitehall on the side of Mr. M. Rich & Bros. Store towards Brown and Allens; when I got in front of M. Rich & Bros. store, I stood there between half past two and a few minutes to three o'clock until the parade passed entirely; then I crossed the street and went on down to Jacobs and went in and purchased twenty five cents worth of cigars. I then left the store and went on down Alabama Street to Forsyth Street and down Forsyth Street to the factory. I unlocked the street door and then unlocked the inner door and left it open and went on upstairs to tell the boys that I had come back and wanted to know if they were ready to go, and at that time they were preparing to leave. I went immediately down to my office and opened the safe and my desk and hung up my coat and hat and started to work on the financial report, which I will explain. Mr. Schiff had not come down and there was additional work for me to do. In a few minutes after I started to work on the financial sheet, which I am going to take up in a few minutes, I heard the bell ring on the time clock outside and Arthur White and Harry Denham came into the office and Arthur White borrowed $2.00 from me in advance on his wages. I had gotten to work on the financial sheet, figuring it out, when I happened to go out to the lavatory and on returning to the office, the door pointed out directly in front, I noticed Newt Lee, the watchman, coming from towards the head of the stairs, coming towards me. I looked at the clock and told him the night before to come back at four o'clock for I expected to go to the baseball game. At that time Newt Lee came along and greeted me and offered me a banana out of a yellow bag which he carried, which I presume contained bananas; I declined the banana and told him that I had no way of letting him know sooner that I was to be there at work and that I had changed my mind about going to the ballgame. I told him that he could go if he wanted to or he could amuse himself in any way that he saw fit for an hour and a half, but to be sure and be back by half past six o'clock. He went off down the stair-case leading out and I returned to my office. Now, in reference to Newt Lee, the watchman, the first night he came there to watch, I personally took him around the plant, first, second, and third floors and into the basement, and told him that he would be required, that it was his duty, to go over that entire building every half hour; not only to completely tour the upper four floors but to go down to the basement; and I specially stressed the point that that dust bin along here was one of the most dangerous places for a fire and I wanted him to be sure and go back there every half hour and to be careful how he held his lantern. I told him it was a part of his duty to look after and lock that back door and he fully understood it, and I showed him the cut-off for the electric current and told him in case of fire that ought to be pulled so no fireman coming in would be electrocuted. I explained everything to him in detail and told him he was to make that tour every half hour and stamp it on the time card and that that included the basement of the building. . . . Now, on one of these slips, Newt Lee would register his punches Saturday night, and on Sunday night he would register his punches on the other. His punches on Monday night would be registered on two new slips that would be put into the clock on Monday night. As I was putting these time slips into the clock, as mentioned, I saw Newt Lee coming up the stairs, and looking at the clock, it was as near as may be six o'clock—looking straight at the clock; I finished putting the slip in and went back to wash up, and as I was washing, I heard Newt Lee ring the bell on the clock when he registered his first punch for the night, and he went downstairs to the front door to await my departure; after washing, I went downstairs—I put on my hat and coat—got my hat and top coat and went downstairs to the front door. As I opened the front door, I saw outside on the street, on the street side of the door, Newt Lee in conversation with Mr. J. M. Gantt, a man that I had let go from the office two weeks previous. They seemed to be in discussion, and Newt Lee told me that Mr. Gantt wanted to go back up into the factory, and he had refused his admission, because his instructions were for no one to go back into the factory after he went out, unless he got contrary instructions from Mr. Darley or myself. I spoke to Mr. Gantt, and asked him what he wanted, he said he had a couple of pairs of shoes, black pair and tan pair, in the shipping room. I told Newt Lee it would be all right to pass Gantt in and Gantt went in, Newt Lee closed the door, locking it after him—I heard the bolt turn in the door. I then walked up Forsyth Street to Alabama, down Alabama to Broad Street, where I posted the two letters, one to my uncle, Mr. M. Frank, and one to Mr. Pappenheimer, a few minutes after six, and continued on my way down to Jacobs Whitehall and Alabama Street store, where I went in and got a drink at the soda fount, and bought my wife a box of candy. I then caught the Georgia Avenue car and arrived home about six twenty-five. I sat looking at the paper until about six-thirty when I called up at the factory to find out if Mr. Gantt had left. I called up at six-thirty because I expected Newt Lee would be punching the clock on the half hour and would be near enough to the telephone to hear it and answer it at that time. I couldn't get Newt Lee then, so I sat in the hall reading until seven o'clock, when I again called the factory; this time I was successful in getting Newt Lee and asked him if Mr. Gantt had gone again; he said, "Yes," I asked if everything else was all right at the factory; it was, and then I hung up. . . . The next day, Sunday, April 27th, I was awakened at something before seven o'clock, by the telephone ringing. I got out of bed—was tight asleep, it awakened me—but I got out of bed, put on a bathrobe and went down to answer the telephone, and a man's voice spoke to me over the phone and said—I after-wards found out this man that spoke to me was City Detective Starnes—said "Is this Mr. Frank, Superintendent of the National Pencil Company?" I said, "Yes, sir," he says, "I want you to come down to the factory right away," I says, "What's the trouble, has there been a fire?" He says, "No, a tragedy, I want you to come down right away," I says, "All right," he says, "I'll send an automobile for you," I says, "All right," and hung up and went upstairs to dress. I was in the midst of dressing to go with the people who should come for me in the automobile, when the automobile drove up, the bell rang, and my wife went downstairs to answer the door. She had on—just had a night dress with a robe over it. I followed my wife—I wasn't completely dressed at that time—didn't have any trousers and shirt on—I went downstairs— followed my wife in a minute or two. I asked them what the trouble was, and the man who I afterwards found out was Detective Black, hung his head and didn't say anything. Now, at this point, these two witnesses, Mr. Rogers and Mr. Black, differ with me on the place where the conversation occurred—I say, to the best of my recollection, it occurred right there in the house in front of my wife; they say it occurred just as I left the house, in the automobile; but be that as it may, this is the conversation: They asked me did I know Mary Phagan, I told them I didn't, they said to me, "Didn't a little girl with long hair hanging down her back come up to your office yesterday sometime for her money—a little girl who works in the tipping plant?" I says, "Yes, I do remember such a girl coming up to my office, that worked in the tipping room, but I didn't know her name was Mary Phagan." "Well, we want you to come down right away with us to the factory," and I finished dressing; and as they had said they would bring me right away back, I didn't have breakfast, but went right on with them in the automobile, made the trip to the undertaking establishment very quickly—I mean, they made the trip downtown very quickly, and stopped at the corner of Mitchell and Pryor Streets, told me they were going to take me to the undertaker's first, that they wanted me to see the body and see if I could identify the little girl. I went with them to the undertaking establishment and one of the two men asked the attendant to show us the way into where the body was, and the attendant went down a long dark passageway with Mr. Rogers following, then I came, and Black brought up the rear; we walked down this long passageway until we got to a place that was apparently the door to a small room—very dark in there, the attendant went on and suddenly switched on the electric light, and I saw the body of the little girl. Mr. Rogers walked in the room and stood to my right, inside of the room. I stood right in the door, leaning up against the right facing the door, and Mr. Black was to the left, leaning on the left facing, but a little to my rear, and the attendant, whose name I have since learned was Mr. Chessling, [sic] was on the opposite side of the little cooling table to where I stood—in other words, the table was between him and me; he re-moved the sheet which was covering the body, and took the head in his hands, turned it over, put his finger exactly where the wound in the left side back of the head was located—put his finger right on it; I noticed the hands and arms of the little girl were very dirty—blue and ground with dirt and cinders, the nostrils and mouth—the mouth being open—nostrils and mouth just full of sawdust and swollen, and there was a deep scratch over the left eye on the forehead; about the neck, there was twine—a piece of cord similar to that which is used at the pencil factory and also a piece of white rag. After looking at the body, I identified that little girl as the one that had been up shortly after noon the day previous and got her money from me. We then left the undertaking establishment, got in the automobile, and rode over to the pencil factory. Just as we arrived opposite the pencil factory, I saw Mr. Darley going into the front door of the pencil factory with another man, whose name I didn't know; we went up to the second floor, the office floor, I went into the inner office, hung up my hat, and in the inner office, I saw the night watchman, Newt Lee, in the custody of an officer, who I think was Detective Starnes—the man who had phoned me. I then unlocked the safe and took out the payroll book and found that it was true that a little girl by the name of Mary Phagan did work in the metal plant, and that she was due to draw $1.20, the payroll book showed that, and as the detective had told me that someone had identified the body of that little girl as that of Mary Phagan, there could be no question but that it was one and the same girl. The detectives told me then they wanted to take me down in the basement and show me exactly where the girl's body was found, and the other paraphernalia that they found strewed about; and I went to the elevator box—the switch box, so that I could turn on the current, and found it open. . . . However, I turned on the switch, started the motor, which runs the elevator, then Mr. Darley and half dozen more of us and the detectives got on the elevator; I got on the elevator and I started to pull the rope to start the elevator to going, and it seemed to be caught, and I couldn't move it, I couldn't move it with a straight pull, and couldn't get it loose, so I jumped out, we all got off, and I asked Mr. Darley to try his hand—he's a great deal larger man and a great deal stronger man than I was—so he was successful in getting it loose—it seemed like the chain which runs down in the basement had slipped a cog and gotten out of gear and needed somebody to force it back; however, Mr. Darley was successful in getting it loose, and it started up, and I got on and the detectives got on and I caught hold of the rope and it worked all right. In the basement, the officers showed us just about where the body was found, just beyond the partition of the Clark Woodenware Company, and in behind the door to the dust bin, they showed us where they found the hat and slipper on the trash pile, and they showed us where the back door, where the door to the rear was opened about eighteen inches. After looking about the basement, we all went upstairs and Mr. Darley and myself got some cords and some nails and hammer and went down the basement again to lock up the back door, so that we could seal the factory from the back, and nobody would enter. After returning upstairs, Mr. Darley and myself accompanied Chief Lanford on a tour of inspection through the three upper floors of the factory, to the second floor, to the third floor and to the fourth floor, we looked into each bin, and each partition, and each dressing room and looked into that very dressing room that has figured so prominently in this trial, and neither Mr. Darley nor myself noticed anything peculiar on that floor, nor did Sergeant Lanford, Chief of the Atlanta detectives, notice anything peculiar. . . . Now, gentlemen, I have heard a great deal, and have you, in this trial, about nervousness, about how nervous I was that morning. Gentlemen, I was nervous, I was completely unstrung, I will admit it; imagine, awakened out of my sound sleep, and a morning run down in the cool of the morning in an automobile driven at top speed, without any food or breakfast, rushing into a dark passageway, coming into a darkened room, and then suddenly an electric light flashed on, and to see that sight that was presented by that poor little child; why, it was a sight that was enough to drive a man to distraction; that was a sight that would have made a stone melt; and then it is suspicious, because a man who is ordinary flesh and blood should show signs of nervousness. Just imagine that little girl, in the first blush of young womanhood, had had her life so cruelly snuffed out, might a man not be nervous who looked at such a sight? Of course I was nervous; any man would be nervous if he was a man. We went with the officers in the automobile, Mr. Rogers was at the driving wheel, and Mr. Darley sat next to him, I sat on Mr. Darley's lap, and in the back was Newt Lee and two officers. We rode to headquarters very quickly and on arrival there Mr. Darley and I went up to Chief Lanford's office where I sat and talked and answered every one of their questions freely and frankly, and discussed the matter in general with them, trying to aid and to help them in any way that I could. It seemed that, that morning the notes were not readily accessible, or for some other reason I didn't get to see them, so I told them on leaving there that I would come back that afternoon, which I ultimately did; after staying there a few minutes, Mr. Darley and myself left, and inasmuch as Mr. Darley hadn't seen the body of the little girl, we went over to Bloomfield's on Pryor Street and Mitchell, and when we went into the establishment, they told us somebody was busy with the body at that time and we couldn't see it, and we started to leave, when we met a certain person with whom we made arrangements to watch the building, because Newt Lee was in custody at that time… . I was working along in the regular routine of my work, in the factory and about the office, and a little later Detectives Scott and Black came up to the factory and said: "Mr. Frank, we want you to go down to headquarters with us," and I went with them. We went down to headquarters and I have been incarcerated every since. We went down to headquarters in an automobile and they took me up to Chief Lanford's office. I sat up there and answered any questions that he desired, and I had been sitting there sometime when Detective Scott and Detective Black came back with a bundle under their arm. They showed me a little piece of material of some shirt, and asked me if I had a shirt of that material. I looked at it and told them I didn't think I ever had a shirt of that description. In the meantime they brought in Newt Lee, the night watchman, brought him up from a cell and showed him the same sample. He looked at it and immediately recognized it; he said he had a shirt like that, but he didn't remember having worn it for two years, if I remember correctly, that is what he said. Detectives Scott and Black then opened the package they had and disclosed the full shirt [State's Ex. F] of that material that had all the appearance of being freshly stained with blood, and had a very distinct odor. Newt Lee was taken back to the cell. After a time Chief Lanford came over to me and began an examination of my face and of my head and my hands and my arms. I suppose he was trying to hunt to see if he could find any scratches. I stayed in there until about twelve o'clock when Mr. Rosser came in and spoke to the detectives, or to Chief Beavers. After talking with Chief Beavers he came over to me and said to me that Chief Beavers thought it better that I should stay down there. He says: "He thinks it better that you be detained at headquarters, but if you desire, you don't need to be locked up in a cell, you can engage a supernumerary policeman who will guard you and give you the freedom of the building." I immediately acquiesced, supposing that I couldn't do anything else, and Mr. Rosser left. Now, after this time, it was about this time they took me from up-stairs down to the District Sergeant's desk and detective Starnes— John N. Starnes, I think his name is—came in and dictated from the original notes that were found near the body, dictated to me to get a sample of my handwriting. I wrote this note at the dictation of Mr. Starnes [State's Ex. K], which was given to me word by word, and of course I wrote it slowly. When a word was spelled differently they usually stopped—take this word "buy" for instance, the detective told me how that was spelled so they could see my exact letters, and compare with the original note. Now I had no hesitation in giving him a specimen of my handwriting. Now, this photograph is a reproduction of the note. You see, J. N. Starnes in the corner here, that is detective Starnes, and then is dated here. I put that there myself so I would be able to recognize it again, in case they tried any erasures or anything like that. It is a photographic reproduction of something that was written in pencil, as near as one can judge, a photographic reproduction of the note that I wrote. Detective Starnes then took me down to the desk sergeant where they searched me and entered my name on the book under a charge of suspicion. Then they took me back into a small room and I sat there for awhile while my father-in-law was arranging for a supernumerary police to guard me for the night. They took me then to a room on the top of the building and I sat in the room there and either read magazines or newspapers and talked to my friends who came to see me until—I was about to retire at midnight. I had the cover of my cot turned back and I was going to bed when Detective Scott and Detective Black, at midnight, Tuesday, April 29th, came in and said: "Mr. Frank, we would like to talk to you a little bit. Come in and talk to us." I says, "Sure, I will be only too glad to." I went with them to a little room on the top floor of the headquarters. In that room was Detective Scott and Detective Black and myself. They stressed the possibility of couples having been let into the factory at night by the night watchman, Newt Lee. I told them that I didn't know anything about it, that if I had, I certainly would have put a stop to it long ago. They said: "Mr. Frank, you have never talked alone with Newt Lee. You are his boss and he respects you. See what you can do with him. We can't get anything more out of him, see if you can." I says: "All right, I understand what you mean; I will do my best," because I was only too willing to help. Black says: "Now put it strong to him, put it up strong to him, and tell him to cough up and tell all he knows. Tell him that you are here and that he is here and that he better open up and tell all he knows about happenings at the pencil factory that Saturday night, or you will both go to hell." Those were the detective's exact words. I told Mr. Black I caught his meaning, and in a few minutes afterwards Detective Starnes brought up Newt Lee from the cell room. They put Newt Lee into a room and hand-cuffed him to a chair. I spoke to him at some length in there, but I couldn't get anything additional out of him. He said he knew nothing about couples coming in there at night, and remembering the instructions Mr. Black had given me I said: "Now, Newt, you are here and I am here, and you had better open up and tell all you know, and tell the truth and tell the full truth, because you will get us both into lots of trouble if you don't tell all you know," and he answered me like an old Negro: "Before God, Mr. Frank, I am telling you the truth and I have told you all I know." And the conversation ended right there. Within a minute or two afterwards the detectives came back into the room, that is, Detective Scott and Detective Black, and then began questioning Newt Lee, and then it was that I had my first initiation into the third degree in Atlanta police department. The way that fellow Black cursed at that poor old Negro, Newt Lee, was something awful. He shrieked at him, he hollered at him, he cursed and did everything but beat him. Then they took Newt Lee down to a cell and I went to my cot in the outer room. . . . Gentlemen, I know nothing whatever of the death of little Mary Phagan. I had no part in causing her death nor do I know how she came to her death after she took her money and left my office. I never even saw Conley in the factory or anywhere else on that date, April 26th, 1913. The statement of the witness Dalton is utterly false as far as coming to my office and being introduced to me by the woman Daisy Hopkins is concerned. If Dalton was ever in the factory building with any woman, I didn't know it. I never saw Dalton in my life to know him until this crime. . . . The statement of the Negro Conley is a tissue of lies from first to last. I know nothing whatever of the cause of the death of Mary Phagan and Conley's statement as to his coming up and helping me dispose of the body, or that I had anything to do with her or to do with him that day, is a monstrous lie. The story as to women coming into the factory with me for immoral purposes is a base lie and the few occasions that he claims to have seen me in indecent positions with women is a lie so vile that I have no language with which to fitly denounce it. I have no rich relatives in Brooklyn, New York. My father is an invalid. My father and mother together are people of very limited means, who have barely enough upon which to live. My father is not able to work. I have no relative who has any means at all, except Mr. M. Frank who lives in Atlanta, Georgia. Nobody has raised a fund to pay the fees of my attorneys. These fees have been paid by the sacrifice in part of the small property which my parents possess. Gentlemen, some newspaper men have called me "the silent man in the tower," and I kept my silence and my counsel advisedly, until the proper time and place. The time is now, the place is here, and I have told you the truth, the whole truth. On rebuttal, the state called more than seventy witnesses. A friend of Minola McKnight's husband and the maid's attorney, George Gordon, testified that Minola said she made a complete and true statement to the police of everything she knew. Her damaging affidavit referred to Frank's drinking on the night of the murder, sleeping restlessly, and threatening to kill himself with a pistol. Two witnesses, O. Tillander and E. K. Graham, who had come to the factory to obtain their sons' money, testified they saw a Negro about the same size as Conley at the stairs on the first floor but swore they could not positively identify him. Fourteen witnesses testified that Dalton's reputation for truth was good. In a prosecution attempt to rebut Daisy Hopkins's assertion that she did not know Frank and had never been to the factory with Dalton, eight witnesses testified that the woman's reputation for truth and veracity was bad. Three witnesses testified that they had seen Frank talk to Mary Phagan frequently and call her by her first name. Others testified to seeing him touch her and attempt to intercept her for conversation. Testimony was introduced that her machine was just a few feet from the men's second floor restroom on the same floor as Frank's office. At the climax of the prosecution's rebuttal, twenty women, former employees of the pencil company, testified that Frank's reputation for lascivious conduct was bad. None were cross-examined so their testimony went unchallenged. Since they were not cross-examined, Dorsey was unable to examine them as to the details on which they based their conclusions as to Frank's bad character. Three residents of homes for unwed mothers, formerly employees of the factory, had been called by the state to testify as to Frank's bad character, but Judge Roan did not permit the jury to hear their testimony. An example of the testimony by Nellie Wood: Q. Do you know Mr. Frank? A. I worked for him two days. Q. Did you observe his conduct toward the girls? A. His conduct didn't suit me very much. Q. You say he put his hands on you; is that all he ever did? A. Well, he asked me, one evening—I went into his office, and he got too familiar and too close. Q. Did he put his hands on you? A. Well, I did not let him complete what he started. I resisted him. Q. Did he put his hands on your breast? A. No, but he tried to. Q. Well, did he make any attempts on your lower limbs? A. Yes, sir. Q. And on your dress? A. Yes, sir. Defense Attorney Arnold argued to the jury: "We are not trying this case on whether you or I or Frank have been perfect in the past. This is a case of murder. Let him who is without sin cast the first stone." But this evidence provided the motive for the crime. In their closing arguments, Frank's counsel asserted that Frank could not have committed the murder, moved the body, and dealt with Jim Conley as the sweeper alleged in the thirty to forty-five minutes Frank was unable to account for. For three and one-half hours, defense attorney Luther Rosser pleaded for Frank's life: Gentlemen, take a look at this spectacle, if you can. Here is a Jewish boy from the North. He is unacquainted with the South. He came here alone and without friends and he stood alone. This murder happened in his place of business. He told the Pinkertons to find the man, trusting to them entirely, no matter where or what they found might strike. He is defenseless and helpless. He knows his innocence and is willing to find the murderer. They try to place the murder on him. God, all merciful and all powerful, look upon a scene like this. The thing that arises in this case to fatigue my imagination is that men born of such parents should believe the statement of Conley against the statement of Frank. Who is Conley? Who was Conley as he used to be and as you have seen him? He was a dirty, filthy, black, drunken, lying nigger. Who was it that made this dirty nigger come up here looking so slick? Why didn't they let you see him as he was? They shaved him, washed him, and dressed him up. Gentlemen of the jury, the charge of moral perversion against a man is a terrible thing for him, but it is even more so when that man has a wife and mother to be affected by it. Dalton, even Dalton did not say this against Frank. It was just Conley. Gentlemen, I want only the straight truth here, and I have yet to believe that the truth has to be watched and cultivated by these detectives and by seven visits of the Solicitor General. I don't believe any man, no matter what his race, ought to be tried under such testimony. If I was raising sheep and feared for my lambs, I might hand a yellow dog on it. I might do it in the daytime, but when things got quiet at night and I got to thinking, I'd be ashamed of myself. You have been overly kind to me, gentlemen. True, you have been up against a situation like that old Sol Russell used to describe when he would say, "Well, I've lectured off and on for forty years, and the benches always stuck it out, but they was screwed to the floor." You gentlemen have been practically in that fix, but I feel, nevertheless, that you have been peculiarly kind, and I thank you. Reuben Arnold then addressed the jurors: "If Frank hadn't been a Jew, there never would have been any prosecution against him," he said, and called the case against Frank "the greatest frame-up in the history of the state." He then compared the case with the case of Captain Alfred Dreyfus, the French soldier and Jewish descendant who had been condemned to Devil's Island through a racial conspiracy. There were two witnesses who quoted anti-Semitic remarks of others. T.Y. Brent, sworn for the defendant in sur-rebuttal, said: "I have heard George Kendley on several occasions express himself very bitterly towards Leo Frank. He said he felt in this case just as he did about a couple of 'niggers' hung down in Decatur: that he didn't know whether they had been guilty or not but somebody had to be hung for killing those street car men and it was just as good to hang one nigger as another, and that Frank was nothing but an old Jew and they ought to take him out and hang anyhow." S.L. Asher, sworn for the defendant in sur-rebuttal, said: "About two weeks ago I was coming to town between five and ten minutes to one on the car and there was a man who was talking very loud about the Frank case and all of a sudden he said, 'They ought to take that damn Jew out and hang him anyway.' I took his number down to report him." Solicitor-General Hugh Dorsey's summation was much longer. He spoke until court adjourned, six more hours on Saturday and three Monday morning. Dorsey said: I say to you here and now that the race from which that man comes in as good as our race. His ancestors were civilized when ours were cutting each other up and eating human flesh; his race is just as good as ours—just as good but no better. I honor the race that produced a Disraeli—the greatest prime minister that England has ever produced. I honor the race that produced Judah P. Benjamin—as great a lawyer as ever lived in America or England, because he lived in both places. I honor the Strauss brothers—Oscar, the diplomat, and the man who went down with his wife by his side on the Titanic. I roomed with one of his race at college; one of his race is my law partner. I served with old man Joe Hirsch on the Board of Trustees of the Grady Hospital. I know Rabbi Marx but to honor him, and I know Doctor Sonn, of the Hebrew Orphans Home, and have listened to him with pleasure and pride. But, on the other hand [he then related crimes that had been committed by Jews] these great people are amenable to the same laws as you and I and the black race. They rise to heights sublime, but they sink to depths of degradation. Gentlemen, every act of that defendant proclaims him guilty. Gentlemen, every word of that defendant proclaims him responsible for the death of this little factory girl. Gentlemen, every circumstance in this case proves him guilty of this crime. Extraordinary? Yes, but nevertheless true, just as true as Mary Phagan is dead. She died a noble death, not a blot on her name. She died because she wouldn't yield her virtue to the demands of her superintendent. I have no purpose and have never had from the beginning in this case that you oughtn't to have, as a honest, upright citizen. In the language of Daniel Webster, I desire to remind you "that when a jury, through whimsical and unfounded scruples, suffers the guilt of escape, they make themselves answerable for the augmented danger to the innocent." Your honor, I have done my duty. I have no apology to make. There can be but one verdict, and that is: We the jury find the defendant, Leo M. Frank, guilty, GUILTY! GUILTY! As Dorsey uttered these words, the noon church bells tolled and the factory whistles blew, reminding all of the hour of Mary Phagan's death. Before Fulton Superior Court Judge L.S. Roan charged the jury, he asked to see all counsel in his chambers where he showed them letters from the editors of three of Atlanta's newspapers predicting the results of Leo Frank's acquittal. "Gentlemen," said Roan, "I think we know. The defendant would be lynched." He requested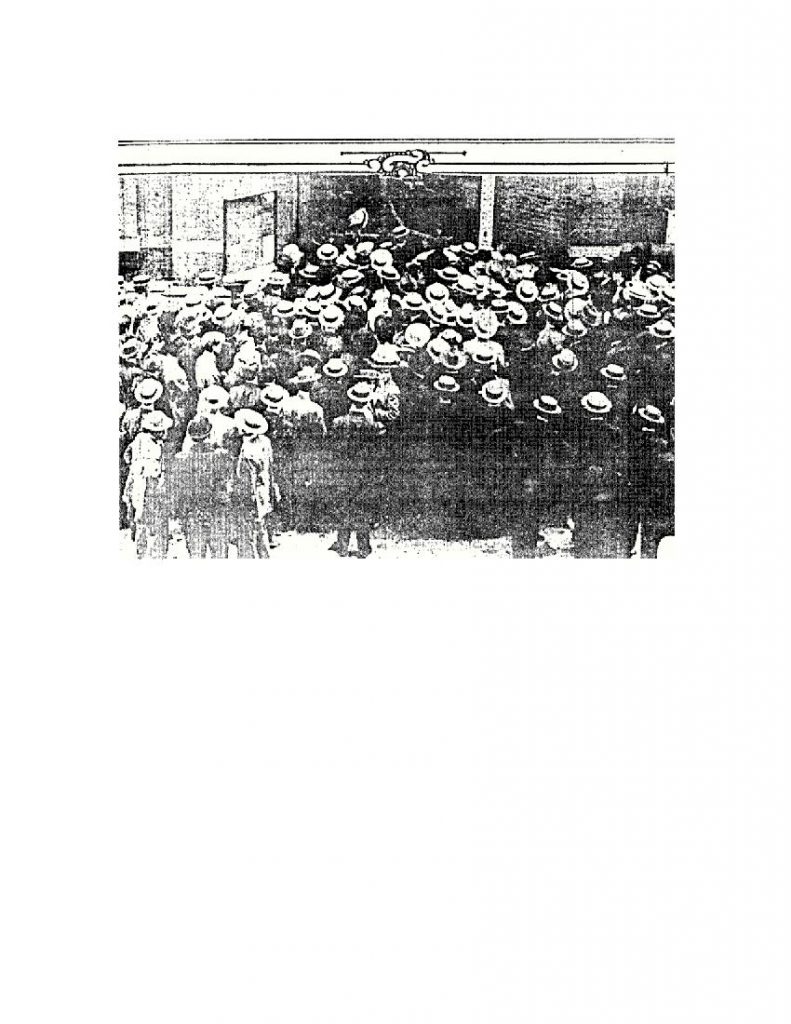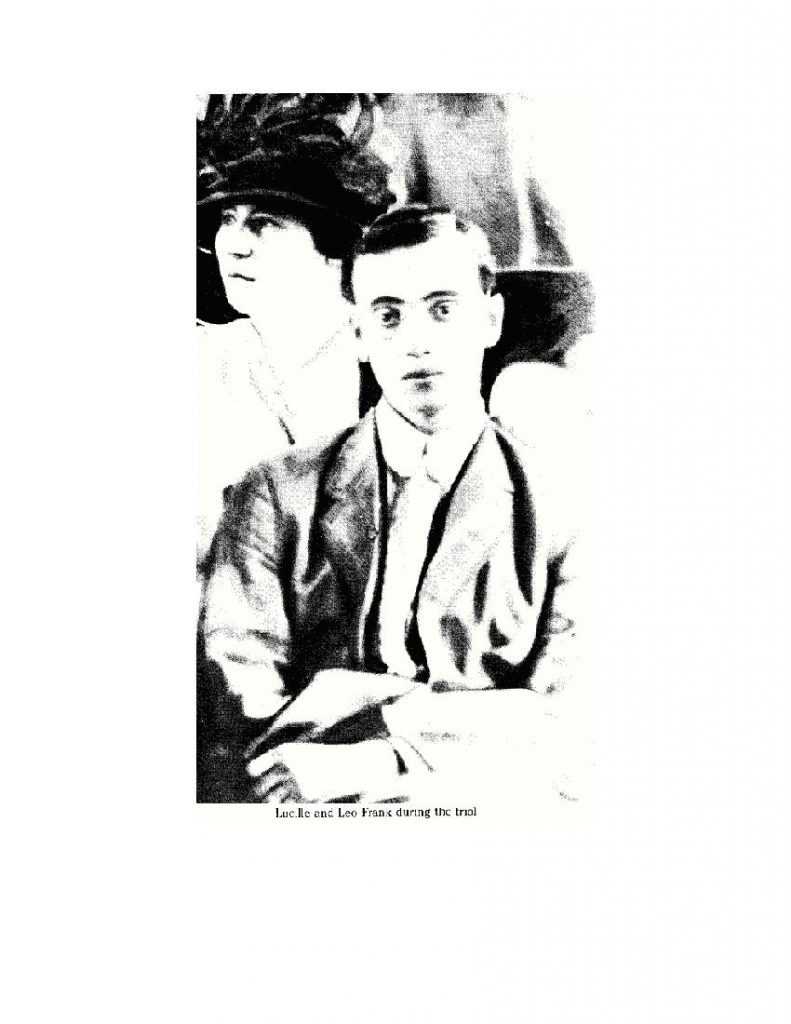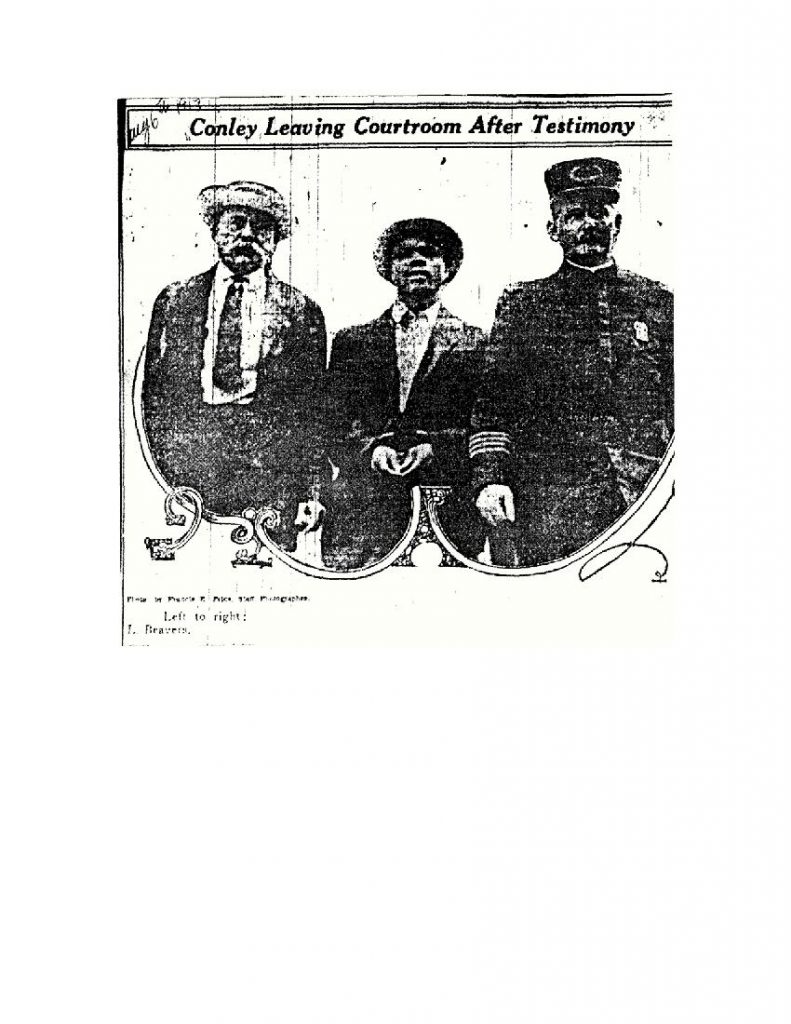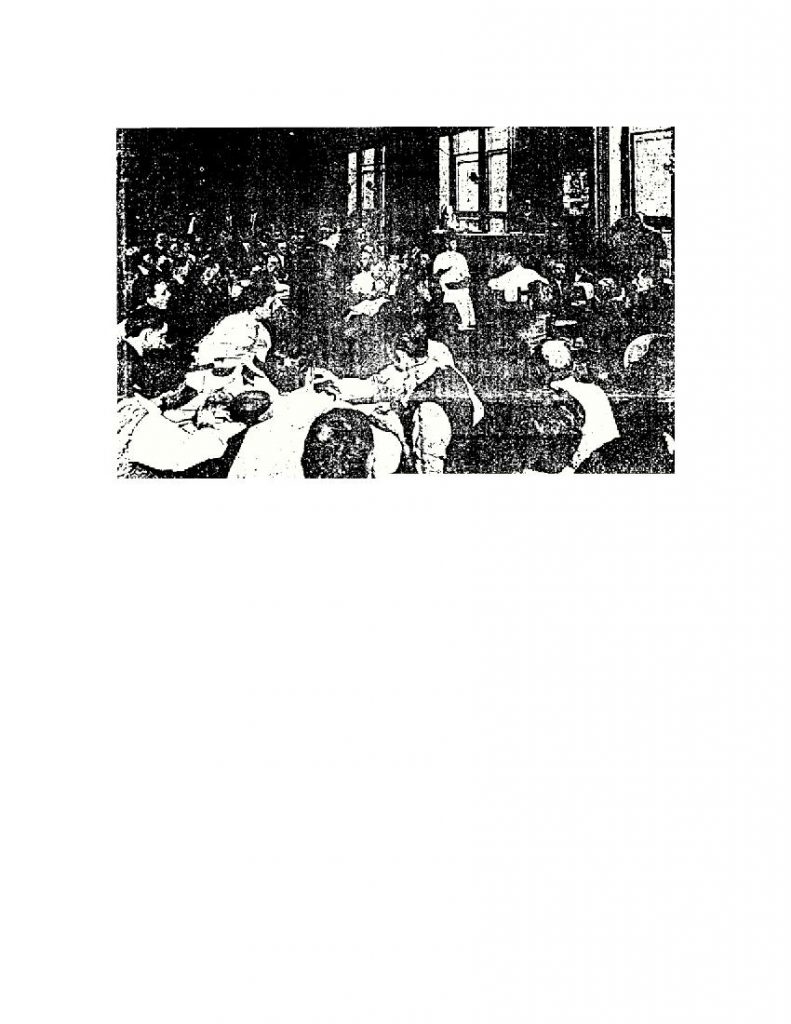 The trial. Leo Frank, seated between his wife and mother, is in front of the judge's bench. Attorney's Reuben Arnold and Luther Rosser, Jr., are seated at the adjacent table. Solicitor-General Hugh Dorsey, standing to the rear of the table, addresses the court.
that both counsel agree that the defendant not be present in the courtroom when the jury told their verdict in case of acquittal. The state militia was alerted. The defense counsel agreed to Frank's absence a well as their own. Solicitor-General Dorsey gave his consent only after Rosser and Arnold agreed that this absence would not be used as a basis for appeal. Within four hours, the jury returned a guilty verdict. Dorsey wept as he polled the jury. A wild demonstration was begun by the large crowd outside the courtroom, but inside there was little demonstration. J. W. Coleman, little Mary's stepfather, walked over to the jury box with tears streaming down his face, and silently thanked each man on the jury with a grip of his hand. He then turned to Judge Roan, and shaking his hand, thanked him for the pains he had taken with the trial and for his fair dealing with all parties concerned. He made the following statement to a Constitution reporter: I want to say that I am entirely satisfied with the manner in which the trial has been conducted and also with the verdict returned. I knew by looking at the faces of the jurors as they were chosen that they were all men who could be relied upon to give fair and careful consideration to each point and that they were of the high type of character who would give their best efforts as citizens of this commonwealth without thought of themselves to determine the guilt or innocence of Leo Frank. I would not, for any consideration, like to see an innocent man pay the death penalty, but I feel sure that anyone in the world who has kept up with the trial in all its phases and with every scrap of evidence submitted, would have found Frank guilty as these honorable gentlemen have done. I am deeply grateful to them and to Judge Roan.
Hugh Dorsey, upon emerging from the courtroom building, was seized by the laughing, cheering, rejoicing crowd and passed bodily over the heads of the crowd to his office across the street. Later, Fannie Phagan Coleman, who had been unable to attend court that day, told another Constitution reporter, I could not begin to tell you how glad and relieved I feel now that it is all over. For weeks I have felt that I just could not sleep another wink for thinking of that man Frank, and the possibility that he might escape the consequences of his crime. I have felt satisfied all the time that he was guilty, and the verdict of the jury is no surprise to me. They are good, noble men, and should be commended by all for doing their duty as they have done. I do not see how anyone who has read all the evidence could possibly think there is the smallest doubt as to Frank's guilt. I have not been well for the last week, and my mother also has been sick, so you see I could not attend all the sessions of the court, but I have gone as often as possible, and I have read every line regarding the progress of the trial published in the papers. I hope that they will not be hard on that Conley Negro. Although he lied a great deal at first, he did turn round and tell the whole truth at last, and in my opinion, he should be let off with a light sentence. The only real regret I feel about the entire trial is that I was unable to attend court this afternoon, and shake hands with each member of the jury and with Judge Roan. I will take the first opportunity of seeing every one of them and thanking them for the patient, careful consideration they have shown to everything connected with the trial any way.
Rabbi Marx sat with Frank and his wife at the Fulton Tower awaiting the verdict. A friend told Frank the verdict. Unbelievingly he exclaimed: "Guilty? My God, even the jury was influenced by mob law. I am as innocent as I was a year ago."